Our mission is to cultivate creativity through science education and experiment design.
Professor Powers Science Symposium, a 501(c)3 non-profit, has been offering fun and engaging science opportunities for kids of all ages (adults included) in Springfield, Missouri since May of 2014. We offer classes for children in the fall, adults year-round, and summer camps in June. Our classes have covered topics ranging from rockets, electricity, engineering, chemistry, and more! Grownups have learned about fermentation, GMOs, and mixology, among other things. In addition to our classes and camps, we perform fun hands-on demonstrations at various community events (look for our giant bubbles!). We've partnered with many local organizations, including Moxie Cinema, All About Trees, Springfield-Greene County Library District, and Dickerson Park Zoo.
If you think your organization is a good fit with Professor Powers, contact Kara here and let us know all about it!
Learn about our faculty & staff!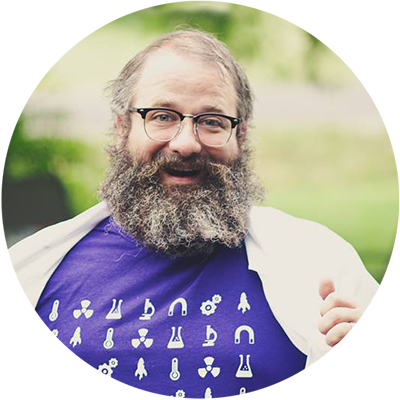 Professor Robert Powers
The Professor has been teaching Chemistry and Physics to high schoolers for 7 years, currently teaching ages 3-18 at The Summit Preparatory School. He has his BS in Chemistry Education from Missouri State University, and an M.Ed in STEM Education from Concordia University. When he's not completely immersed in sharing his passion for science with everyone around him, he plays guitar and sings in various local bands, and also spends time with his wonderful wife and ProPow co-founder and their 3 rambunctious and precocious boys, 3 dogs, and one fierce kitten.
Professor Jen
Professor Jen has long been interested in science and math. After participating in Science Olympiad in High School, she was encouraged by her father and grandfather to pursue a degree in physics - and did so, earning a M.S. in Physics from the University of California, Davis. After graduate school, Jen spent many years teaching in the Community College systems in both California and Minnesota. Since moving with her family to Missouri in 2012 she has largely taken a break from teaching. Jen spent three years interning at Millsap Farm, and two years working at the neighborhood grocery store Homegrown Food. She lives in Springfield with her husband and middle-school kids, a rescue dog, and tabby cat. She enjoys knitting, singing with the MSU Choral Union, hiking, and watching SciFi shows with the family.
Professor Craig
Professor Craig wins the prize for funnest job history. With a resume including phlebotomist, microbiological quality control technician, animal keeper with Wonders of Wildlife (including swimming with sharks and training bobcats, otters, and alligators), death scene investigator and autopsy assistant, he's really done it all! While not teaching ProPow classes, Prof. Craig is an instructor at OTC, teaching anatomy & physiology and microbiology.
Kara Remington Powers
Amidst a career in marketing, design, and gallery management, Kara started Professor Powers with her husband and has since found a new passion in managing the organization. While Professor Powers works on curriculum, Kara handles all the behind the scenes things, including program development, logistics, customer service, and marketing.